About Us
OnlineCityTickets.com is a leading provider of resale tickets in the secondary market specializing in concerts, theater, family shows, traveling Broadway, and sporting events. We offer tickets to events around the world and provide our customers with an outstanding customer service team, cutting edge technology, and low prices. OnlineCityTickets.com is a privately owned and operated company dealing almost exclusively in the online retail of resale tickets. Prices on our sites may be above or below face value and can change quickly with consumer demand. We are not affiliated with any primary website, venue, box office, or supplier.
OnlineCityTickets.com offers all of our customers a 100% Buyer Guarantee, which states that all tickets purchased will arrive prior to the event, be better than or equal to the tickets purchased, and be completely authentic and valid for entry. The majority of inventory sold on our sites can be instantly downloaded or emailed within minutes of purchase. We also offer various last minute services and are often able to give our customers access to events even after they've started.
We strive to make our customer experience the most outstanding in the industry. Please call (800) 854-2196 at any time with any questions or concerns. You may also email support@onlinecitytickets.com for any additional information.
Thanks,
OnlineCityTickets.com
Ticket Information
Inventory
We are a resale marketplace, not a box office or venue. Ticket prices may exceed face value. This site is not owned by Ellie Caulkins Opera House .
Guarantee
100% Buyer Guarantee. Tickets are authentic and will arrive before event.
Address
950 13th Street
Denver, CO 80204, United States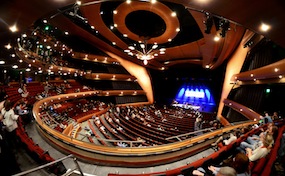 Ellie Caulkins Opera House
The Ellie Caulkins Opera House is a part of the Newton Auditorium inside the massive Denver Performing Arts Complex. The Ellie Caulkins Opera House box office is located at 1101 13th Street in downtown Denver Colorado. The Denver Performing Arts Complex has hosted many of the hottest traveling Broadway shows in the country. DPAC tickets have included performances of the Book of Mormon, Wicked, the Lion King, Jersey Boys, Les Miserables, the West Side Story, and many more popular shows. Ellie Caulkins Opera House opened in September of 2005 and has a seating capacity of 2,225. The naming came after a generous $7 million dollar pledge from the Caulkins family to renovate the opera house.

OperaHouseDenver.com is not in any way affiliated with any official box office, venue, and or supplier. We are an independently owned and operated company that concentrates in all sales in the secondary ticket market. Prices may be well below or above face value and can change rapidly with market conditions. To order tickets to all Ellie Caulkins Opera House events simply follow the steps online or call our operators at all times.